Driving from Athens to Meteora: A Complete Guide to Visiting Meteora by Car in 2023
Driving from Athens to Meteora is an incredible addition to any Greece trip. Meteora is a vividly stunning UNESCO world heritage site in central Greece, and best of all, it is easy to go from Meteora to Athens by car.
Get Lost in Wanderlust contains affiliate links. If you make a purchase using one of the links below, we may receive a very small compensation at no extra cost to you. We only recommend products and services we use and trust. Read our disclaimer for more information.
I recommend Discover Cars to check prices and book car rentals in Greece. Discover Cars allows you to compare prices of several different car companies. You can find great deals by using Discover Cars, and it also shows the reviews of the car companies, allowing you to find the best-rated car for the best price.
Driving from Athens to Meteora: Renting a Car
Renting a car and driving from Athens to Meteora is a great option as it allows you to be on your own schedule and see other sights along the way.
Where to Rent a Car in Athens
There are several car rental options available at the Athens International Airport. I recommend using Discover Cars to search for the cheapest and highest rated car rental in Athens.
Make sure to book your rental car at Athens Airport, because this way you can drive on a highway that goes around the city of Athens instead of through the city center. The center of Athens is confusing, with chaotic drivers and several one way roads, and so it is best to avoid it all together by picking up your car at the airport!
Important Information for Renting a Car in Greece
Insurance
Make sure to get insurance on your rental car. Having insurance will give you protection in case of an accident or accidently damage to the car, and so it is important to have coverage.
Car rental companies will offer you a basic coverage option with a Collision Damage Waiver (CDW) that will protect you in case of damage to the car. Typically for a basic insurance option, you may be required to pay up to a certain amount if damage occurs, but would be covered after that.
You also can get full coverage insurance, which will be the most expensive option but provides peace of mind as there is typically no deductible for damage with full coverage.
Another option is to check if the credit card you are using for the booking offers car rental insurance. If it does, you'll want to read over what the coverage includes and it is good to have a copy of this to show the rental car company in case they ask for proof of insurance. The same thing goes for certain travel insurances that may include rental car coverage.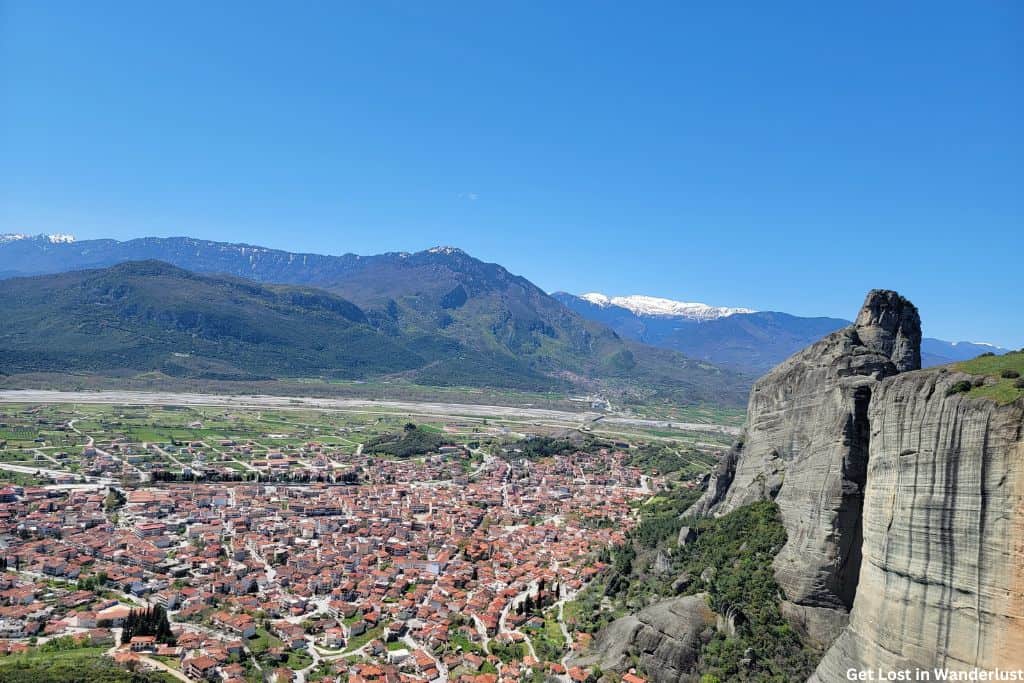 Collecting the Rental Car
When collecting your rental car, it is a great idea to take a quick video walk around of the car's condition, and note any visible scratches or dents. Make sure that any scratches, dents, or other noteworthy damage is properly noted with the person checking you in.
👉 Click here to Check Prices and Book your rental car from Athens Airport
International Drivers License
If you are coming from the United States, you'll want to get an international drivers license. When we went, we were not asked to show the international license, but it's better to have it just in case. Getting an international license is easy, you just go to your nearest AAA office and apply. The cost is typically around $20 and the license should be valid for 1 year.
Rules of the Road
In Greece, you will drive on the right side and pass on the left, the same as in the United States. One thing to know is that locals tend to drive fast, and so let them pass you if needed. Typically, people will pull to the side as much as possible to let faster cars pass.
Tolls
The road from Athens to Meteora is mostly a toll road, which means that the road is in great condition and is well-kept. There are several different toll booths along the drive typically ranging from 1-2 Euros each. Many of the toll booths will take card, but it is a good idea to keep some change (Euros) just in case.
Driving from Athens to Meteora: The Best Route to Take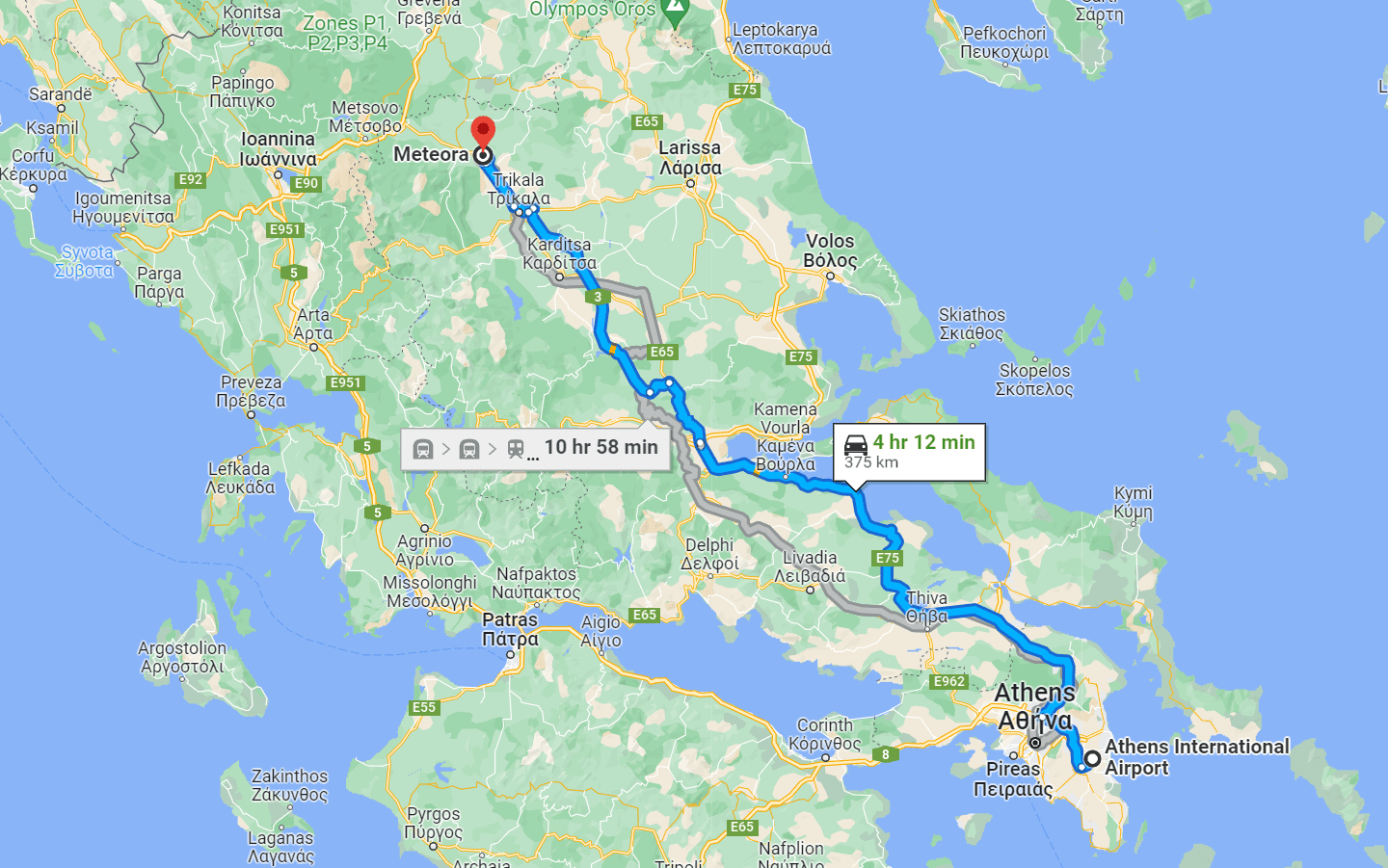 The best route to take is to pick up your rental car from Athens Airport, and then drive straight to Meteora. On the way back, I recommend a slightly different route, with a detour to Delphi or to further explore on a Greece road trip.
I recommend driving to Meteora first as the drive this route is relatively easy, which lets you get used to driving your rental car on easy, flat roads. This drive will be around 4.5 hours + stops. The roads are well-kept toll roads which allowed you to go 100-120 kph on average.
The majority of the road on this route is straight and flat as it goes through the Thessalian plain. After Lamia, you will get some more hilly/mountainous type of roads, but the duration is short and it is still quite easy to drive (much easier than the Delphi area).
Thermopylae – A great stop while driving from Athens to Meteora
This was the location of the famous battle where 300 Spartans and 700 Thespians fought to hold back the invading Persian army. It is right in the middle of the drive (2 hours in) making it a great stop on your drive from Athens to Meteora.
Here you can see the Memorial to Leonidas and the 300 Spartans, as well as stop at the Historical Information Center (open 9am-5pm). A stop here will only take you about 15 minutes-1 hour depending on your level of interest.
Thermopylae is also along the easy route to Meteora, which goes mostly through the Thespian Plains. If you are looking for an easy drive, go this route with a mid-point stop at Thermopylae.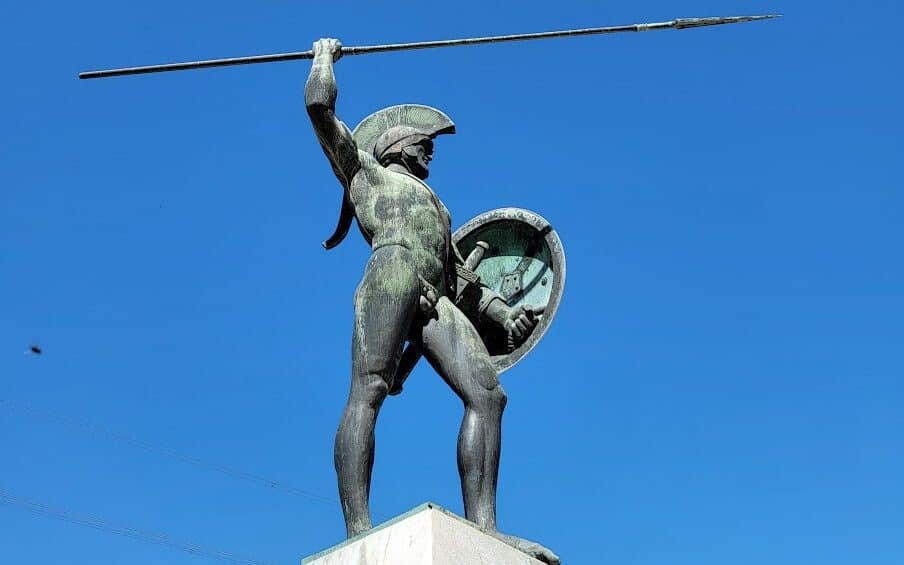 Driving to Athens from Meteora: An Alternate Route through Delphi
After visiting Meteora, you can choose to take the same, easy route back to Athens or take a slightly longer route to see Delphi, which is one of the most historically significant sites in all of Greece.
This is a longer drive of around 6 hours that goes through the mountains, but you will stop at one of Greece's most famous historical sites.
If you go this route, I highly recommend spending 1 night in Delphi to break up the drive. The hotels in Delphi are very affordable, I believe we paid $45 for one night. Otherwise you would need to leave very early in the morning.
Delphi: A Stop in One of Greece's Most Important Sites
Delphi is one of the most important historically sites in Greece and should be on any list for an adventure in Greece. It will take around a half day to visit the Delphi archeological site and museum.
If you are a confident driver or have experience driving in the mountains, this drive shouldn't be a problem. It does contain mountain driving with some hairpin turns and drop offs, but the roads are paved and in good condition.
However, if you are nervous of mountain driving or scared of heights, you could consider doing a guided day tour from Athens, and instead take the first route back to Athens. I also would not recommend making this drive in winter weather.
👉 Don't want to drive to Delphi? Click here to book a guided day tour from Athens.
After spending a night in Delphi, you can continue on to Athens or go towards Nafpaktos. In Nafpaktos, you will cross the bridge into the famous Peloponnese peninsula to see sites such as Olympia, Corinth, and Mycenae.
Alternative Options to Driving
There are two alternative options to seeing Meteora without driving. The first is to take the train from Athens Larissa Train Station to Kalabaka.
Want to visit Meteora without a car? A guided day trip from Athens is your best option. Check out this full day Athens to Meteora Guided Tour.
The Ultimate Adventure in Greece- What to do in Meteora
Visit the 6 monasteries
Visiting the monasteries is the highlight of Meteora. You can choose to drive up, hike up, or take a guide tour. We chose to drive, as there is already quite a few steps at each monastery and so we wanted to save our energy + time by driving. The opening times of each monastery varies and can be found on the official website here.
👉 Check out this half day Guided Tour of the Meteora, which allows you to visit the monasteries and get the best views, without worrying about driving or parking!
Watch the Sunset
There are several great look out points, where you can easily park and obtain an amazing view of the Meteora monasteries. This is a great spot for photographers, as well as the best places to catch the sunset.
🌄 Looking for the best sunset spots in Meteora? I recommend taking the Meteora Sunset Tour which will show you the best sunset spots and provide you with lots of history about Meteora!
👉Click here to book your Meteora Sunset Tour through Viator
Go Hiking
There is plenty of hiking trails throughout Meteora. More information on hiking trails can be found via the Meteora Trails website here. You can also choose to take a Guided Hiking Tour in Meteora.
Staying in Meteora
How long to stay in Meteora
I would recommend staying 2 nights in the Meteora area, but you can make do with 1 night if that is all the time you have. The reason I highly recommend 2 nights is that it gives you a full day where you can focus on seeing all the monasteries, checking out the view points, and heading back up for sunset views. This allows for you to also enjoy your time rather than feeling rushed.
Where to stay in Meteora
For where to stay near Meteora, check out this map of nearby accommodations:
In regards of where to stay, you will want to choose between Kalabaka or Kastraki. Below are some of the highest rated and best accommodation options.
Hotel Doupiani House is a boutique hotel that offers amazing views of Meteora and has a 9.4 rating. Located steps away from Meteora in the quiet village of Kastraki this is a great option for a room with a view! They also offer a buffet breakfast which provides a perfect start to your day.
✔️Click here to book Hotel Doupiani House and experience the incredible views!
Dellas Boutique Hotel is another great hotel option with a 9.2 rating. It offers a great variety of beautifully decorated and rooms, many of which have an amazing view.
✔️Click here to book your stay at Dellas Boutique Hotel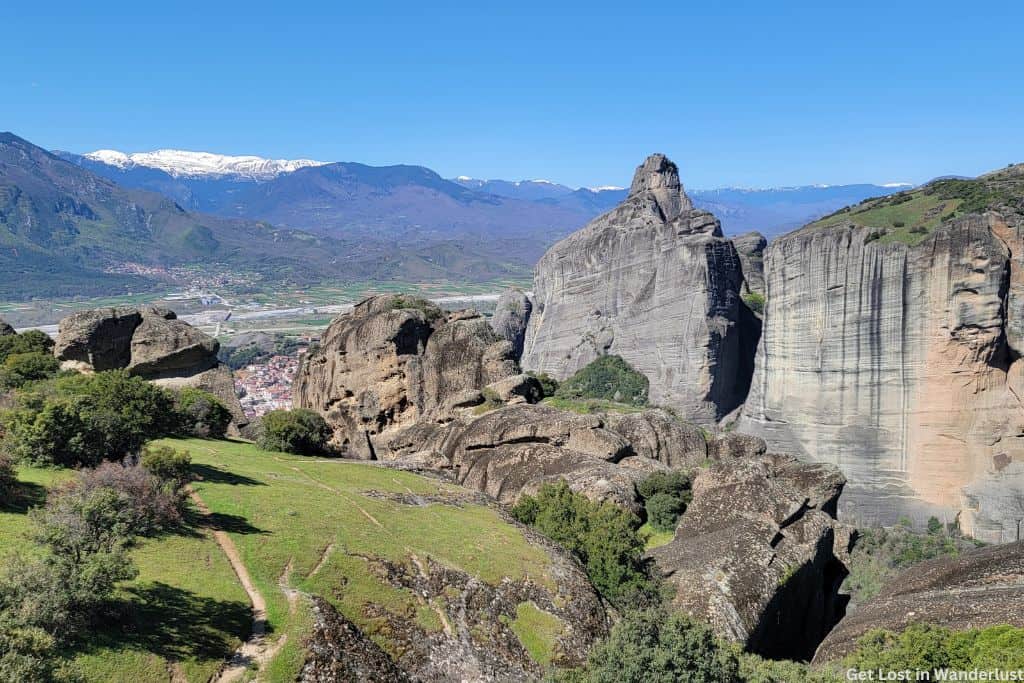 Where to eat in Meteora
Meteoron Panorama. We had dinner at Meteoron Panorama and would recommend it. They serve mostly Greek food. Overall, the food was good and the views were even better! We loved being able to sit outside and admire Meteora.
The Diner & Cocktail Bar by Rapsodia. The food was very good here, although more similar to American food which was a change of pace as we had been traveling in Greece for awhile.
Feel the Rocks. This was a rooftop bar that we stopped for drinks at and it had some great views of Meteora.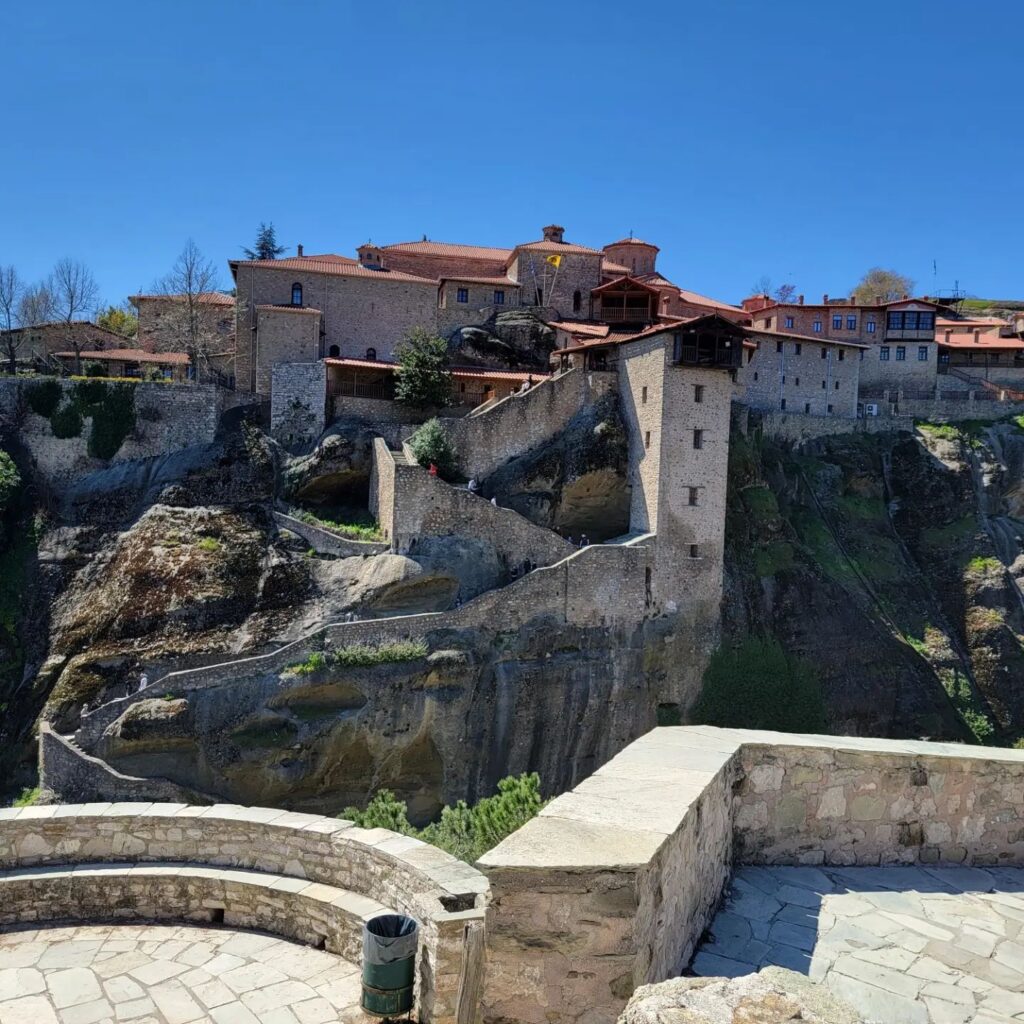 Important things to know when visiting Meteora:
There is a strict dress code for visiting the monasteries. Men should wear pants and women must cover shoulders, as well as wear dresses or skirts that cover the knees. If you do not have a skirt on, they will require you to wear a tie on skirt that is borrowed from the front of the monastery.
Each monastery has differing opening times. Also, they each are closed 1 day per week. If you plan to visit all of them, Saturdays are currently your best option. It is important to check the opening times of the monasteries here.
There are a lot of stairs + walking. If you want to do all 5 or 6 monasteries, you will need a full day to accomplish this and you will want to keep an eye on opening/closing times to have a plan.
Accessibility. The only monastery that is accessible with no stairs is the nunnery- Agios Stefanos (St. Stephan). This monastery only requires crossing a small bridge.
Afraid of heights? I am! Before going I was so nervous I wouldn't be able to manage it, but it was easier than I expected. The walls on the stairs going up are relatively high, however, if you are nervous just keep looking forward and take deep breaths. Remember, people go up these stairs every day (and the monks used to climb up!). I also highly recommend starting with Agios Stefanos since there are no stairs, and it will give you an idea of how comfortable you are.
BRING EUROS! The monasteries charge a small admission fee and only accept cash. The fee is only a few Euros at each one.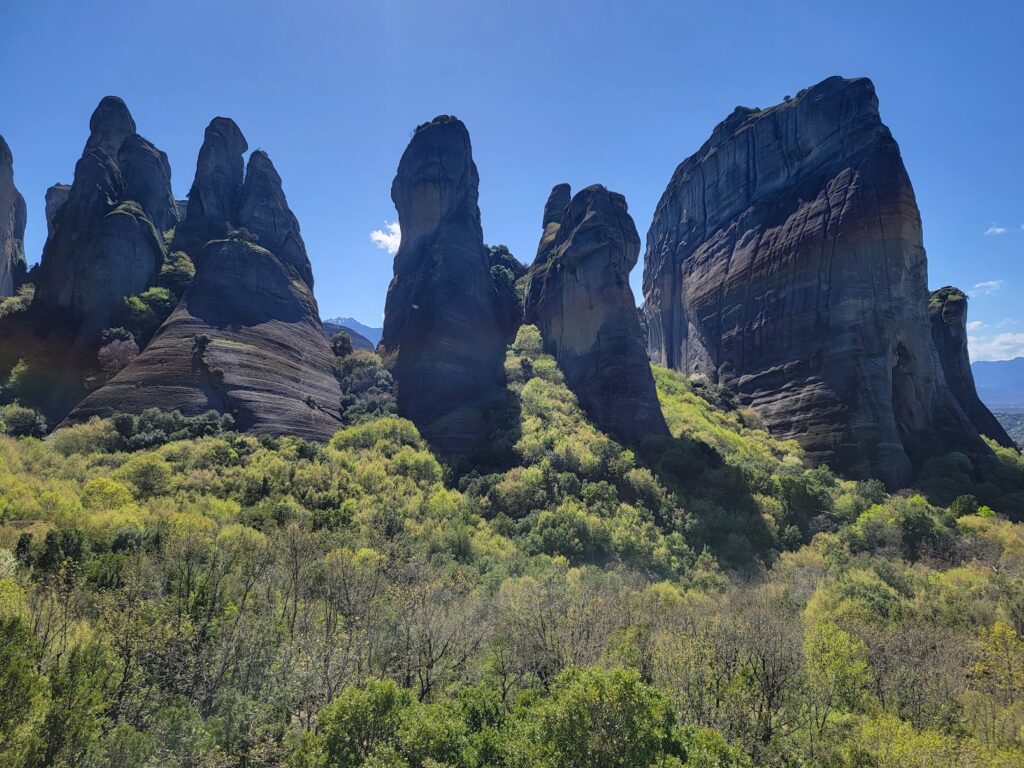 So, is Driving from Athens to Meteora Worth it?
Yes! It is definitely worth it to drive from Athens to Meteora. Meteora is an incredibly unique destination in Greece. Additionally, the drive from Athens to Meteora can include great stops such as Delphi or Thermopylae, making it an interesting drive!
Looking to continue your adventure in Greece as a longer road trip? Check out our 6 day Greece Road Trip Itinerary for an incredible Greece road trip!